Click Here for the FINAL Elk Rapids Strategic Vision presentation.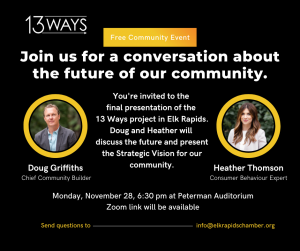 Click Here for the 13 Ways Presentation, December 9, 2021 ~ Assessment, Engagement & Recommendations
Elk Rapids Library Recommendation for the Library Board Recommendations
Click Here for a detailed trip summary from the 13 Ways team.
Surrounded by Grand Traverse Bay and the Chain of Lakes, the beauty and strength of Elk Rapids' natural resources inspires us. It's also inspired many people to imagine living, playing, and working in one of northern Michigan's most vibrant towns. Our progressive and enterprising village and township strive to create avenues of enterprise that are as fresh as our agriculture.
In the Elk Rapids area you will find:
US-31 ­– providing easy access north/south for shipping goods or supplies.
M-72, south of Elk Rapids – connects directly to I-75 for quick transportation downstate.
The Cherry Capital Airport in Traverse City, a full-service airfield – offers excellent venues for commercial shipping or passenger connections.
Our industrial park complex includes room to grow while meeting power, water, and sewer needs.
Elk Rapids maintains its own hydroelectric generating plant.
Broadband internet access is available wirelessly or by cable.